Account information
Subscribe here to our newsletter to stay informed of beauty and well-being news from DAY+
Join our loyalty program to enjoy exclusive benefits
For every purchase of a DAY+ product that you make, you accumulate points which are added to your loyalty program.

Each euro spent on our site gives you 1 point.

Depending on the number of points obtained, you benefit from exceptional new advantages:
- products offered
- new offers
- a gift for your birthday
- access to our exclusive private sales
- the discovery of our new products in preview
- many other lovely surprises!
Leave us your phone number so you don't miss any exclusive offers!
Best-Sellers & New Releases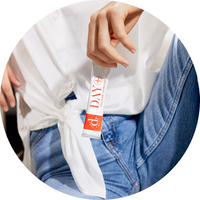 Your subscription: the best option
Economical and Advantageous Subscription is the cheapest option. Every month, you benefit from a preferential rate and exclusive advantages on your Loyalty Program!
Your loyalty program
Discover our new loyalty program Accumulate points each month thanks to your subscription and benefit from exclusive discounts!
Best-Sellers & New Releases